Fishing for Black Marlin in the Bazaruto Archipelago
Probably the most exciting fishing on the east coast of Africa happens during the months of October and November outside the Bazaruto Archipelago. The water temperature rises very quickly and once it reaches that magical 25 degrees, it triggers a massive concentration of pelagic fish in the shallow waters outside the islands.
The main attraction is the Black Marlin that come to spawn in the area. They are here the whole summer and we have even caught Black Marlin over 500lbs in the winter months. The massive amount of bait that the area holds ensures that these fish stay around in the shallows (30m – 180m). We have found that the best bite happens when the water is between 25 and 27 degrees (October to mid December and mid March to Mid May).
I for one love fishing for Black Marlin. I have fished the area for 8 years now and quickly learnt that these fish move with the  tides. There are huge amounts of water flowing in and out of the Bazaruto Archipelago every day and this effects where the bait will hold and eventually where you will stand the best chance to catch that big Black Marlin.  We have found patterns where/how these fish like to feed over specific tides and this gives us the advantage. Another influence of the tidal movement is the water color.  This also plays a major role when targeting these fish.
Marlin fishing is a team sport. Everyone that has ever fished for billfish knows it can become tedious and boring work if things are not going your way. The nice thing about fishing for Blacks is that we use several different methods fishing for them – depending on conditions. For example: if there is not a lot of action on the surface it might be in your favor to spend an hour or two to look for a live bait instead of trawling plastics around. This has made the difference between me getting the bite on a certain day or not. It also gets the anglers involved in catching bait etc. Yellow fin tuna is the best live bait seeing as they live the longest and can be trawled faster than Skip jack Tuna and Bonito.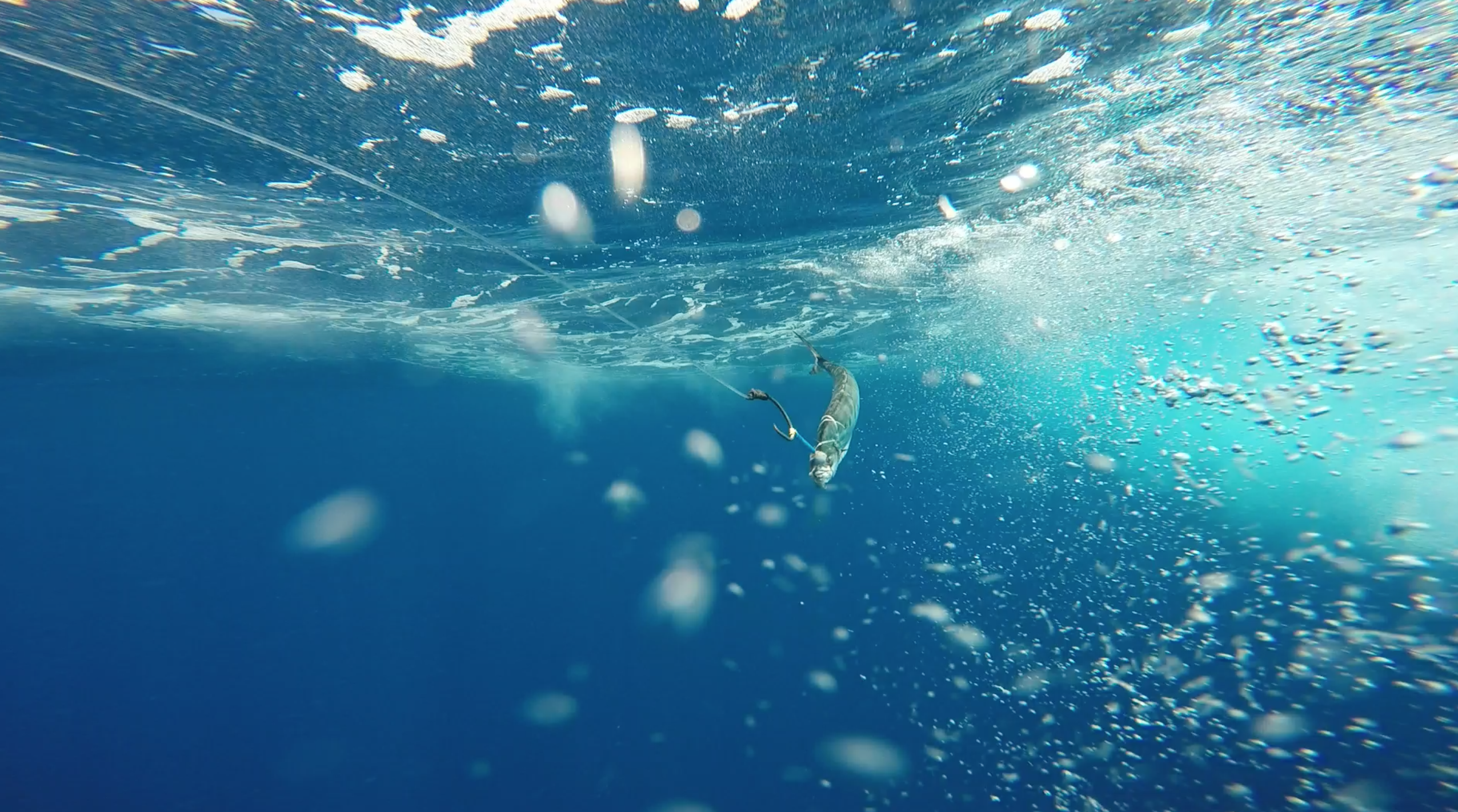 We also often use dead baits. Here, my favorite is a 2/3kg Bonito as a skip bait and a Needlescale Queenfish as a swim bait. You have not fished until you've seen an angry 600lbs Black annihilate your skip bait. Most mornings we will spend some time to catch these fish and this by itself is great fun. The other method we use is trawling lures. The last 4 years I have caught 50% of my fish on lures. There are certain times that I would take a live bait out of the water to be able to fish with lures. The tide might change and you will see a bit more surface activity, current lines will form or a big thermocline appears and your instincts will tell you that it is time to cover area with the lures seeing as the fish might be feeding more aggressively and more readily on the surface.
We are lucky to have very good size fish in the Bazaruto Archipelago. Our average fish is between 300 and 400lbs. I myself have caught two 1000lbs fish and know of at least another eight that have been caught here in the last few years. 600 to 900lbs fish are caught and seen often.
We are lucky that we also catch Blue Marlin, Stripped marlin and Sailfish in our area.
The location could also not be more ideal. There are few things like seeing a 800lbs Black Marlin jumping against the backdrop of a golden sand dune only 3 miles away. Ideal to bring the wife and kids with. They can go spend the day on the islands and have great adventures while you are looking for that fish of a lifetime.
Capt. Morgan O'Kennedy