Black, Blue and Striped Marlin Fishing Charters
Fish with the most experienced captains in Mozambique
Best time of year: September to December

The Bazaruto Archipelago, a unique fishing location
Fish Black, Blue and Striped Marlin between September and January each year along the stunning Bazaruto Archipelago coastline.
Over the last 10 years we have built up a deep knowledge of how to catch these incredible fish, with numerous catches over 800lbs including two granders (over 1000lbs) with the average catch around 400lbs. Fishing with us promises to be an amazing adventure.  
  Heavy trawling, live baiting

  Immaculate boats, latest equipment
   Sustainable fishing, catch and release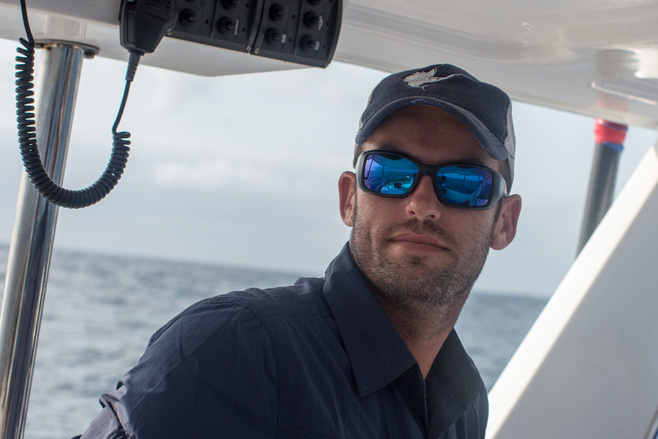 Your Marlin Expert
Morgan
Morgan O'Kennedy has been a professional fishing guide for the past decade, his knowledge of fishing for marlin and big game fish in the Bazaruto Archipelago is second to none.
Marlin Fishing
Game Fishing
Local Knowlegde
I have had the privilege of fishing with Morgan on a number of occasions and what really stands out is his comprehensive angling knowledge, be it shore-based spinning or bait-fishing, off-shore jigging and popping or big game. It is very seldom that one finds a guide with such wide-spread knowledge and ability.
Fishing Marlin in Mozambique
Our marlin fishing grounds are washed by the south flowing current that runs between Mozambique and Madagascar, sometimes to a strength of over 3 knots.
A very distinctive feature about our fishing grounds is how shallow and close to shore most of the big Black Marlin are caught. This provides short runs and fishing in clear sight of the breathtaking scenery, deserted beaches and exquisite sand dunes that make up Bazaruto's windward coastline.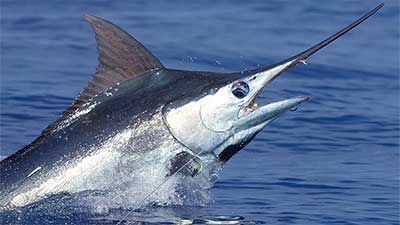 Blue Marlin
Blue Marlin
We target blue marlin in the deeper waters outside the archipelago as we seldom come across these species in water under 300m of depth.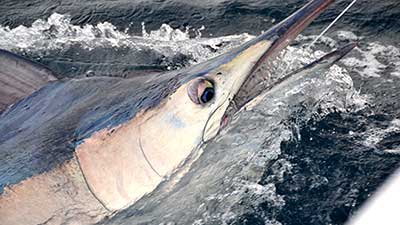 Black Marlin
Black Marlin
Blacks are the "brawlers" of the marlin world. They like shallow water where we find numerous species of shark and tuna feeding with them. Once hooked, a black marlin fights differently to other marlin species, for example they do not spend as much time jumping on the surface as a blue marlin would.
Aggressiveness
Depth
Size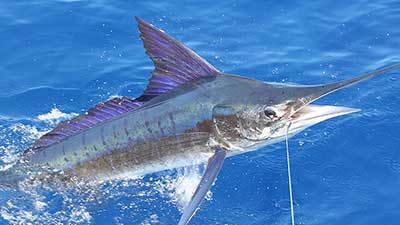 Striped Marlin
Striped Marlin
Striped marlin hunt in packs. It is very seldom that you will have only a single fish in the spread. They normally come up 3 or 4 fish at a time and multiple hook-ups are not uncommon.
Well equipped fishing boats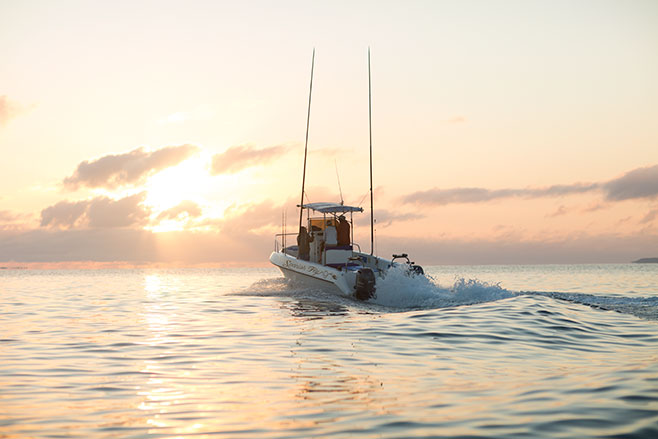 Fish on...
Spanish Fly
Spanish Fly is a 25ft Magnum walk around (built by Two Oceans Marine in Cape Town, South Africa) powered by twin 150 H.P YAMAHA engines. She is a fishing machine ideal for the Bazaruto Archipelago. Equipped with the latest gear; Garmin Plotter & depth sounder and Mallards 21ft stiff outriggers.
Popping & Jigging
Live baiting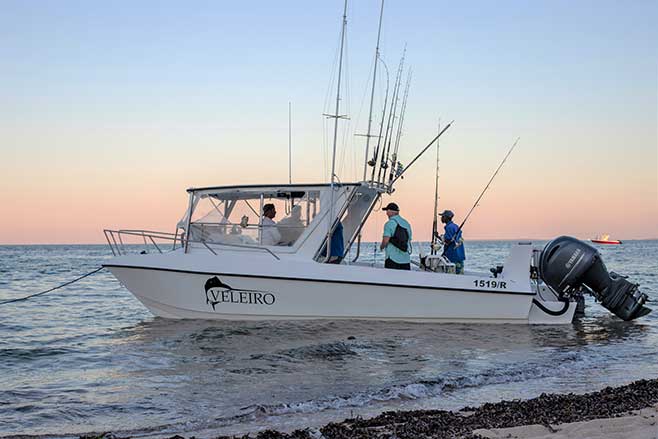 Fish on...
Veleiro
Veleiro is a 29 ft Nova Cat with a clean, open and practical deck which is an ideal trolling platform. She has been meticulously rigged with some of the best equipment available. She is powered by twin 150 H.P YAMAHA engines with a cruise speed between 21-24 knots. Veleiro is fitted with Garmin Echomax Chirp plotter & depth sounder, Mallards fighting chair, Schaefer outriggers and luna tubes.
Safety Equipment
Speed
Maneuverability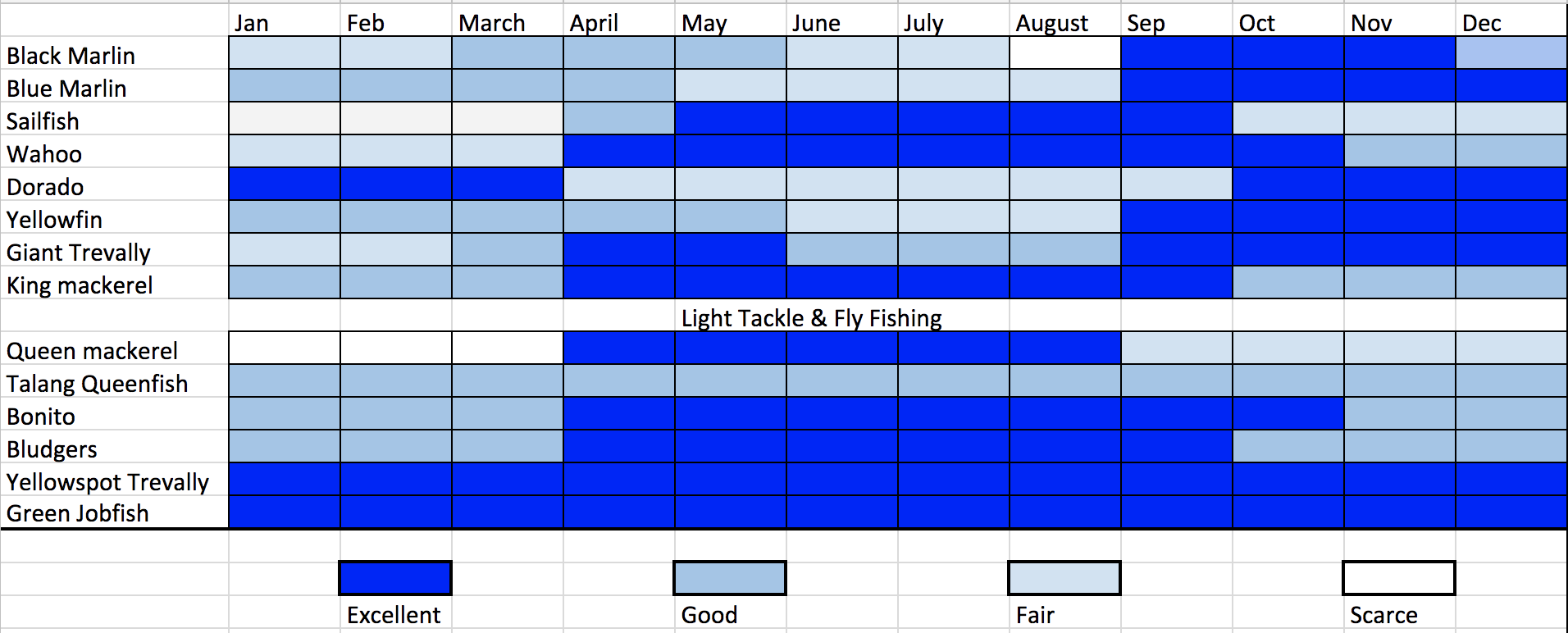 Other Fishing Charters
Marlin and Game Fishing in Vilanculos, Mozambique
What would you like to fish for today?